Discovery Tours
,
Gobi Wonders and The World Energy Center (11 days)
On this tour, we will start our journey by getting Energy from the World Enrgy Center, Khamar Monastery, located in Middle Gobi. Then, the tour continues with full of energy to descover most of the Gobi highlights. Centuries old nomadic lifestyle will be observed and experimented throughout the journey. Mongolian traditional culture and folklore are other highlights of this wonderful tour.
Duration: 11 days/10 nights
Tour grade: Easy
Covering distance:
Group size:2-20
ITENINARY:
Day 1. Welcoming Day! Arrival in Ulaanbaatar and meet our guide and driver. Transfer to hotel and check in. In the afternoon city tour in Ulaanbaatar city: visit Sukhbaatar Square, Chinggis Khaan's monument, Natural History Museum, and visit Zaisan Memorial for Panoramic view of Ulaanbaatar. Overnight at hotel.
---
Day 2.Ulaanbaatar –Energy Center After breakfast, we will drive to Khamriin Khiid Monastery which was established in the 1820s by famous Mongolian educator and literary figure Danzanravjaa in 19th century. The Monastery was an important center of Buddhist Red Section and seat of the terrible Noble Saint of the Gobi. The site where the monastery was built is believed to be the energy center of the world. We will relax in the gobi nature on one hand, get so much energy on the other hand. Explore the energy center. Seeing sunset in the Gobi will be one of the highlights of our trip. Stay overnight in a Ger camp.
---
Day 3. Energy Center - Ikh Gazriin chuluu. After getting energized, we will head to Ikh Gazriin Chuluu,high granite rock formations. This granite rock mountain range has been worshipped by the Gobi people for a long time. The great natural beauty and rich wildlife of the mountain are an attraction for the visitors. Also, there is a beautiful open air theatre and concerts are occasionally held here in honour of two famous Mongolian long-song singers who used to live locally. There are many interesting stories about local historic people who had lived or had been hidden in caves from the royalties of that time. It has a rich family of plants and is a home to many wild animals. Overnight in a Ger camp. BLD
---
Day 4. Ikh gazriin chuluu - White stupa /Tsagaan Suvarga This is a colorful limestone rock in Ulziit sum, a local administration unit. The name Tsagaan Suvarga (White Stupa) is given by local people to the impressive and legendary cliff which is eroded by natural phenomenon. Having 10 million years history, the cliff indicates different times by its colored layers. Tsagaan Suvarga (White Stupa) is interesting to see from the sheer slope, facing east, which from a distance seems to be the ruins of the ancient city. We will have great view of the stupa as like ancient tall castle from the bottom. Stay overnight in Ger Camp. BLD.
---
Day 5. White stupa -Yol Valley and Three beauties of Gobi
In the morning we will start driving for about 250km to the Yol valley, named after a vulture , is a deep and narrow gorge in the sub range of the famous mountain "The three beauties of Gobi". Short trekking through the gorge. The Yol valley was originally established to conserve the birdlife in the region but now is more famous for its dramatic rocky cliffs and narrow, heavily shaded canyons that allow sheets of blue-veined ice to survive well into the summer. At the gate, there is museum of wild animals of the national park. We will hike to and from the ice about 4-5km. But the scenery while walking will be great. Stay overnight in Ger Camp.BLD.
---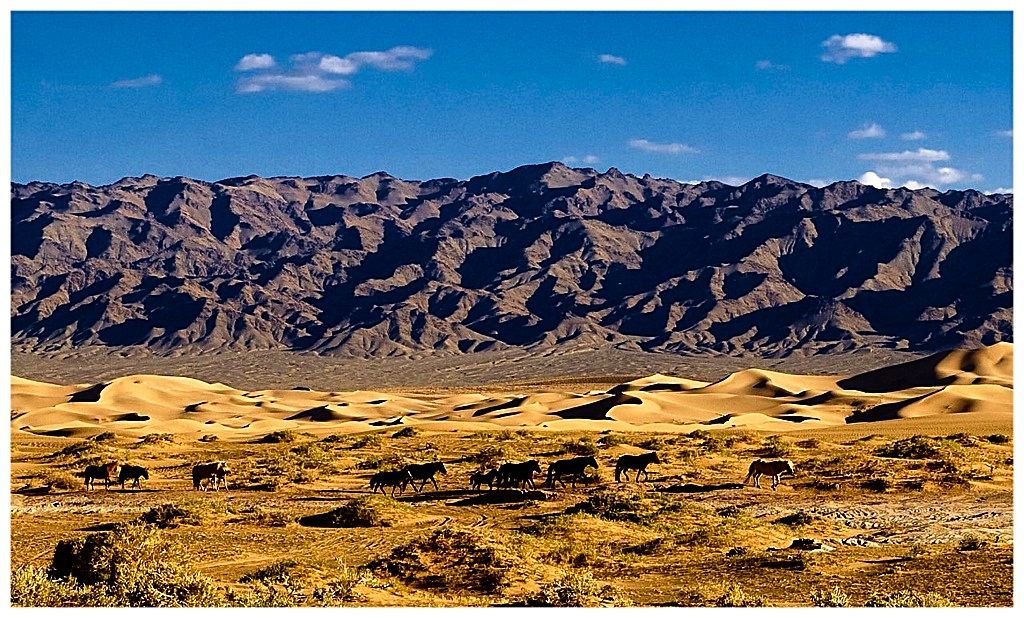 Day 6. Travel to Khongor sand dunes
In the morning, we will continue for our adventure with driving for 180 km to the next destination, Khongor Sand Dunes or Singing Dunes which is one of the largest and most spectacular sand dunes in Mongolia, which reaches a height of 300 meter, 12 km wide and 100 km long. Getting to the top (45 minutes to one hour) is exhausting; every step forward is followed by a significant backslide, but the views of the desert from the sandy summit are wonderful. This dramatic scenery features many colors of nature as white sand dune, the light green grass, red-blue mountains and the eternal blue sky. Stay overnight in ger camp. BLD
---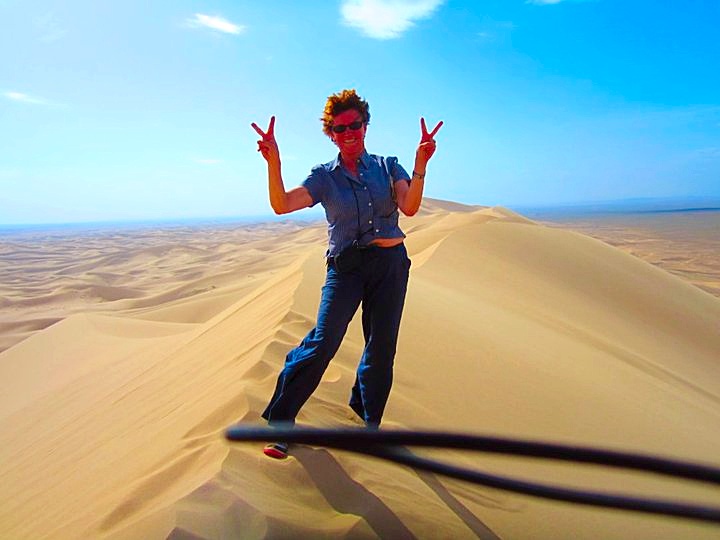 Day 7. A day at the Sand dune After having a tasty breakfast we will drive shortly to a camel herding nomadic family. After getting introduced and offered with the traditional tea with milk, dairy products, we will have enough time to have conversation with the family members to know camel herding families' life style and how they are still keeping the nomadic lifestyle in the modern days. We will also have opportunity to learn how to milk the camel and produce the dairy products. After having lunch, we will go for camel riding for 1-2 hours to the sand dune. It will be interesting for you to see the Gobi from the camel back. Stay overnight in Ger campl. BLD.
---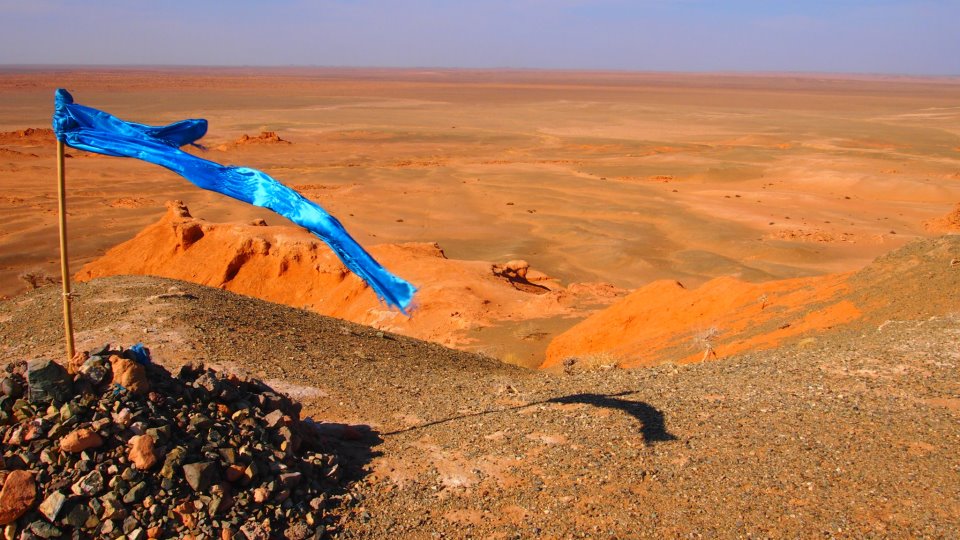 Day 8. Travel to Flaming Cliffs/ Bayanzag

Today we will drive to Flaming Cliffs which is Neolithic site where the large dinosaurs' skeletons on show in Natural History Museum were found. In the west, it is better known as the Flaming Cliffs so named explorer Roy Chapman Andrews. He also discovered petrified forests, remain of mammals and in particular the skeleton of hornless rhinoceros, the largest known mammal in the world.Trekking in Bayanzag. It will interesting to walk in the amazing cliffs. Waiting and seeing the sunsetting from the flaming cliff will be highlight of the day. Stay overnight in Ger camp.​ BLD.
---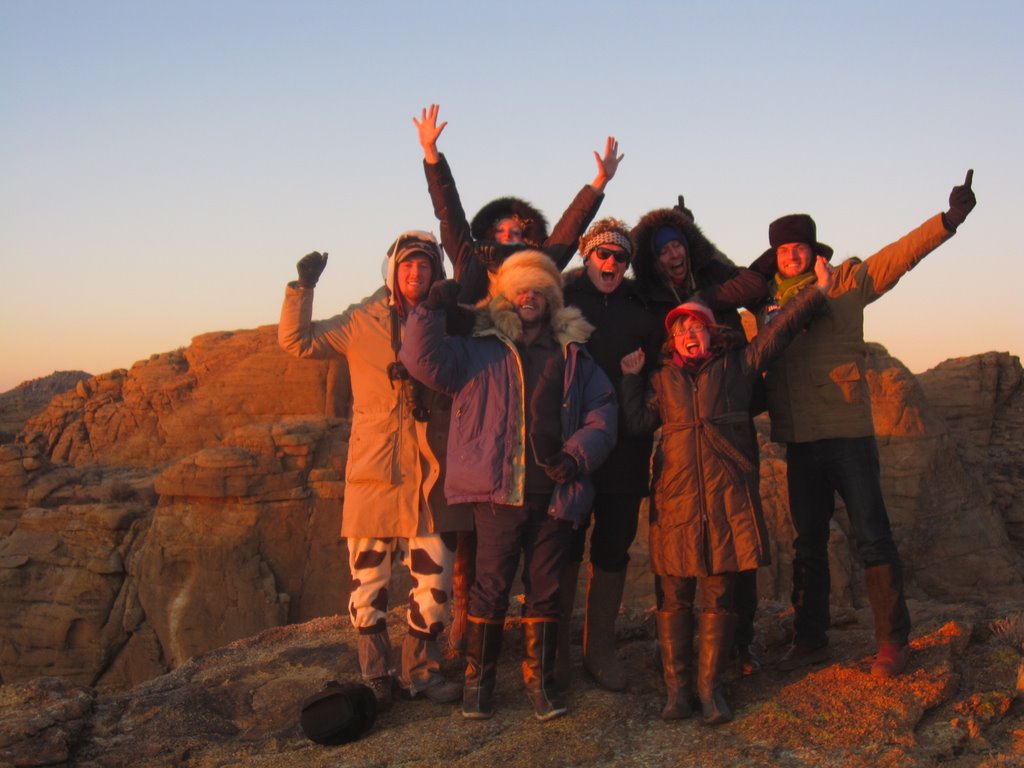 Day 9. Travel to Baga gazriin chuluu Drive mostly on asphalt road to Bagagazriin chuluu ,unique granite rock formations, in the middle of the dusty plains sheltered Zanabazar, the first reincarnated Bogd, during the conflicts between the Khalkh and Oirad Mongols. Later in 19th century, it was home to two revered monks who left rock drawings in the area. The rocks are worshipped by locals who sometimes pilgrimages here. Naturally, there is a legend that Chinggis Khaan grazed his horses here. In this rocky area, we will take a walk and relax mentally. Stay overnight in ger camp. BLD
---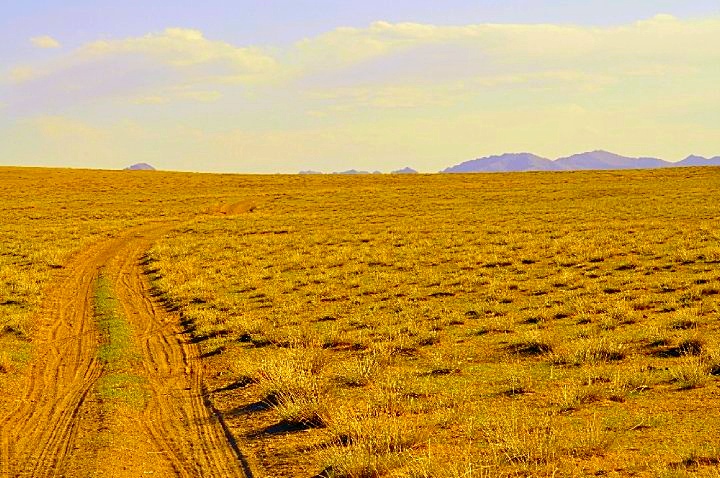 Day 10. Baga gazriin chuluu – Ulaanbaatar After breakfast, we will still have some time to walk or enjoy the nature around. Then we will travel to Ulaanbaatar city for 260 kms drive mostly by paved road. Arrive in Ulaanbaatar and transfer to your hotel. Farewell dinner. Stay overnight in hotel.
---
Day 11. Departure day Departure from Mongolia.
---